Introducing the Recovery Token Display, a 25 coin holder personalized with the "Just For Today" slogan, designed specifically for Alcoholics Anonymous and Narcotics Anonymous members. This beautifully crafted plaque allows you to proudly display up to 25 of your most cherished recovery coins, making it an ideal gift for milestone AA or NA anniversaries.
At the top of the plaque, your name and recovery date will be expertly laser engraved, along with the "Just For Today" recovery slogan. Each medallion display plaque is made from high-quality Alder Wood, and measures approximately 9″ x 12″ x 3/4″ (thick). The holder is designed to accommodate standard bronze, plated, and tri-colored medallions, with a diameter of 1-3/8″. Please note that plastic poker chip style tokens with a diameter of 1-1/2″ are not suitable for this plaque.
Mounting the plaque is a breeze, thanks to the keyhole on the back side. Simply hang it on the wall, door, or any flat surface that you prefer. If you ever want to change out your medallions, it's easy to do so by popping one out and mounting another using double-sided tape. Additionally, we offer a selection of display easels for those who prefer to showcase their medallion holder on a shelf, table, or desk.
Please keep in mind that these plaques are laser engraved, and the text and graphic contrast may vary due to the natural characteristics of each individual piece of wood. This means that your plaque will be one-of-a-kind, unlike anyone else's in the world. We intentionally do not utilize color fill techniques to enhance the darkness or contrast of the engraving, as we believe in allowing the beauty of the wood to create a special and unique piece of art for you to cherish for years to come.
We take great pride in our products and offer them exclusively through our Etsy shop, WoodenUrecover. Visit our store to check out our wide range of recovery-themed gift items.
3849 reviews for
Recovery Token Display, 25 Coin Holder Personalized w/Just For Today Slogan, Medallion Holder for Alcoholics Anonymous, Narcotics Anonymous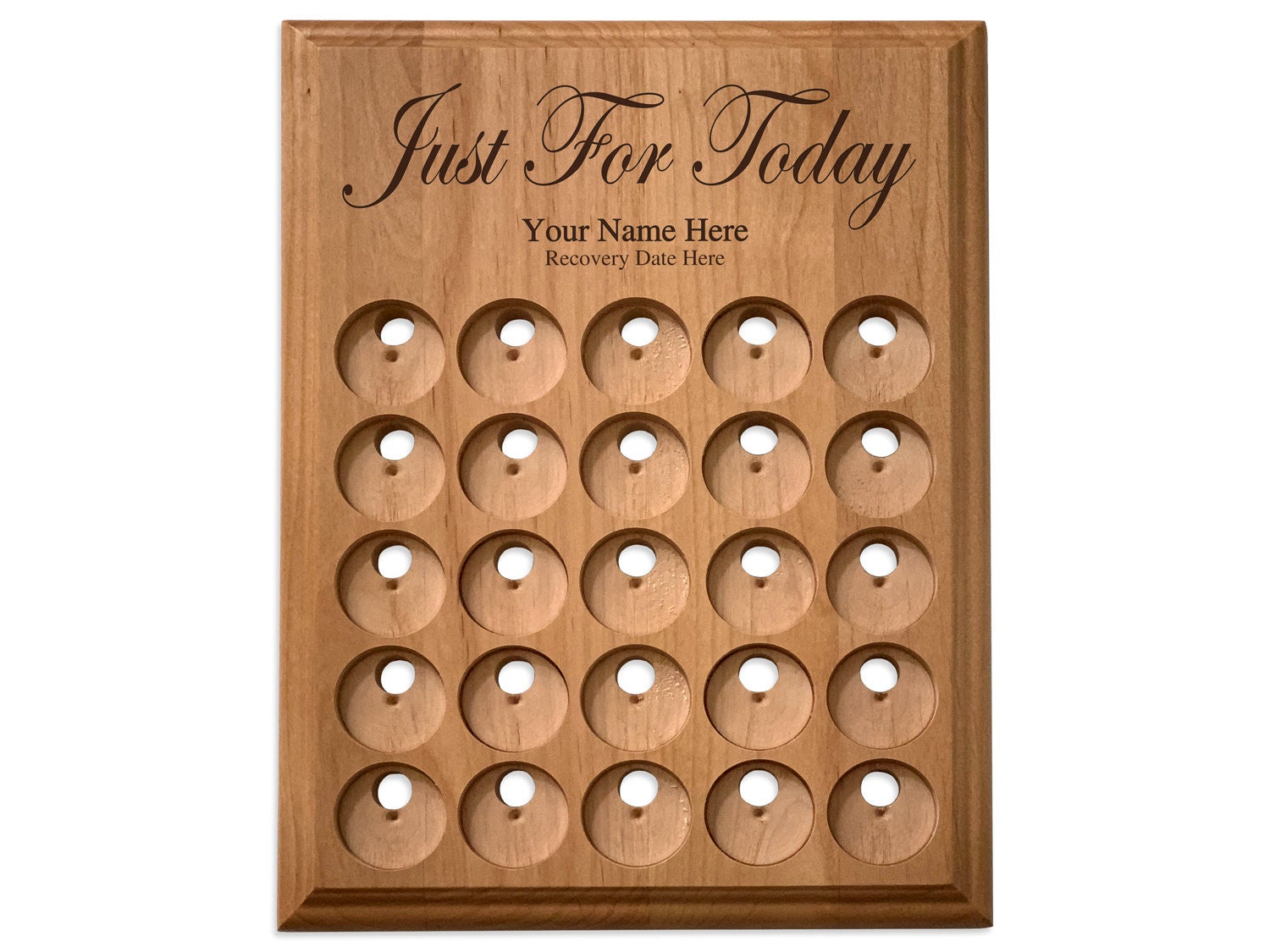 Recovery Token Display, 25 Coin Holder Personalized w/Just For Today Slogan, Medallion Holder for Alcoholics Anonymous, Narcotics Anonymous