.element{background:#1848a0}
SMARTWHIP CREAM CHARGER 8G
DESCRIPTION

SMARTWHIP PROFESSIONAL CREAM CHARGERS 8G

CHOOSE FROM
1 x CASE = 24 CREAM CHARGERS
2 x CASE = 48 CREAM CHARGERS
3 x CASE = 72 CREAM CHARGERS
4 x CASE = 96 CREAM CHARGERS
5 x CASE = 120 CREAM CHARGERS
We are the authorised online seller of SMARTWHIP products.
ADDTIONAL DETAILS
IMPORTANT SAFETY DATA
The cartridge contains Nitrous Oxide (E942) under high pressure. Please only use with a device approved for this cartridge and follow manufacturer's instructions. Non-aerosol. Non-refillable. Recyclable steel. Never dispose of full cartridges. Keep Out of reach of children. Storage and operating temperature: 3C (minimum) 50C (maximum). The maximum fill pressure for cream whippers is 35 kg/cm2. Do not take onboard an aircraft. For food use only.
RECYCLING
Gas cartridges and gas canisters are not refillable. They are made with 100% recyclable steel. They are safe to put in with your tin cans etc for collection. Please do not dispose of unused cartridges!
OVER 18'S ONLY
This product is not for sale to under 18'S. This product is only to be brought for catering purposes. Resellers please ensure your customers are over 18. We will refuse and will block to sell Nitrous Oxide (N2O) Cream Charger cartridges to you if we suspect you intend to misuse them or are under 18.
Please do not use for medical reasons; if inhaled, seek
medical attention right away.
CONTACT US
If you have any questions or any other enquiries about any of our products, kindly send us a message through eBay and we will be happy to provide further assistance.
| | |
| --- | --- |
| Payment | We only accept payment through Paypal. |
| Shipping | All orders will be dispatched to the address given by the customer via eBay.  All orders received by 12pm will be dispatched the same working day. |
| Returns | In order to ensure our customers receive the best level of service we offer a 30-day money back guarantee.  If you are to return an item all we ask is the item is returned in the same condition you received it.  Please note you will be responsible for the return postage. |
Copyright 2022 © Smartchefstore
Specification:
SMARTWHIP CREAM CHARGERS WHIP FOAM INFUSE NITROUS OXIDE N2O CANISTERS 8G
| | |
| --- | --- |
| CountryRegion of Manufacture | Netherlands |
| MPN | SMCH24 |
| Suitable for | Adults 18+ |
| Brand | SMARTWHIP |
| Type | Whipped Cream, Creating Foams, Infusing Cocktails |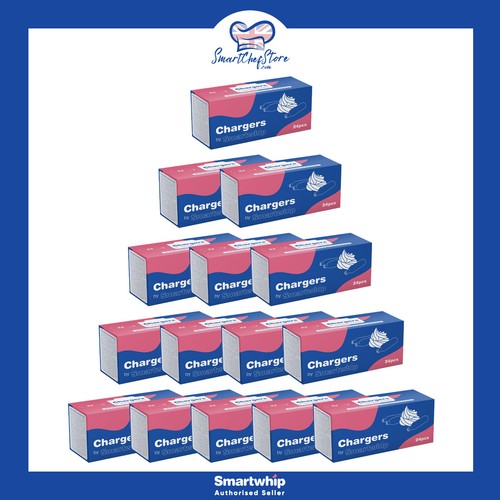 SMARTWHIP CREAM CHARGERS WHIP FOAM INFUSE NITROUS OXIDE N2O CANISTERS 8G