The Ruby 40th Anniversary Rose Gift is the perfect choice for celebrating a special 40th wedding anniversary. Its ruby red blooms represent passion and love, making it a meaningful and heartfelt gift for your partner or a happy couple.
These stunning deep red roses are not only visually captivating, but they also offer a mix of color and fragrance from early spring to late summer. With new growth occurring in the spring and blooms appearing in the summer, this rose bush creates a beautiful focal point in any garden. The deep green leaves provide a striking contrast to the vibrant red flowers, adding to their visual appeal.
This lasting gift allows you to commemorate your 40th anniversary in a special way. Simply add the ruby anniversary rose to your basket, personalize a ruby wedding card, and choose a convenient day for delivery. This gift will continue to mark future anniversaries, serving as a reminder of your enduring love and commitment.
The Ruby 40th Anniversary Rose Gift is a semi-deciduous rose bush that arrives cut back with short stems from October to May. However, new growth will occur in the spring, and the flowers will bloom from June onwards. It arrives with a height of 20-50cm in a 3.5L pot, making it easy to handle and plant.
Additionally, this hybrid tea variety of rose comes gift-wrapped, adding an extra touch of elegance to your anniversary present. The blooms of this rose have a delicate scent, enhancing the sensory experience of the gift.
To ensure the best growth, it is recommended to plant this rose bush in moist, well-drained soil. It is fully hardy in UK climates, making it a suitable choice for any garden in the country.
Overall, the Ruby 40th Anniversary Rose Gift is a thoughtful and lasting gift that will bring joy and beauty to any garden. Celebrate your 40th anniversary in style with this gorgeous ruby red rose bush.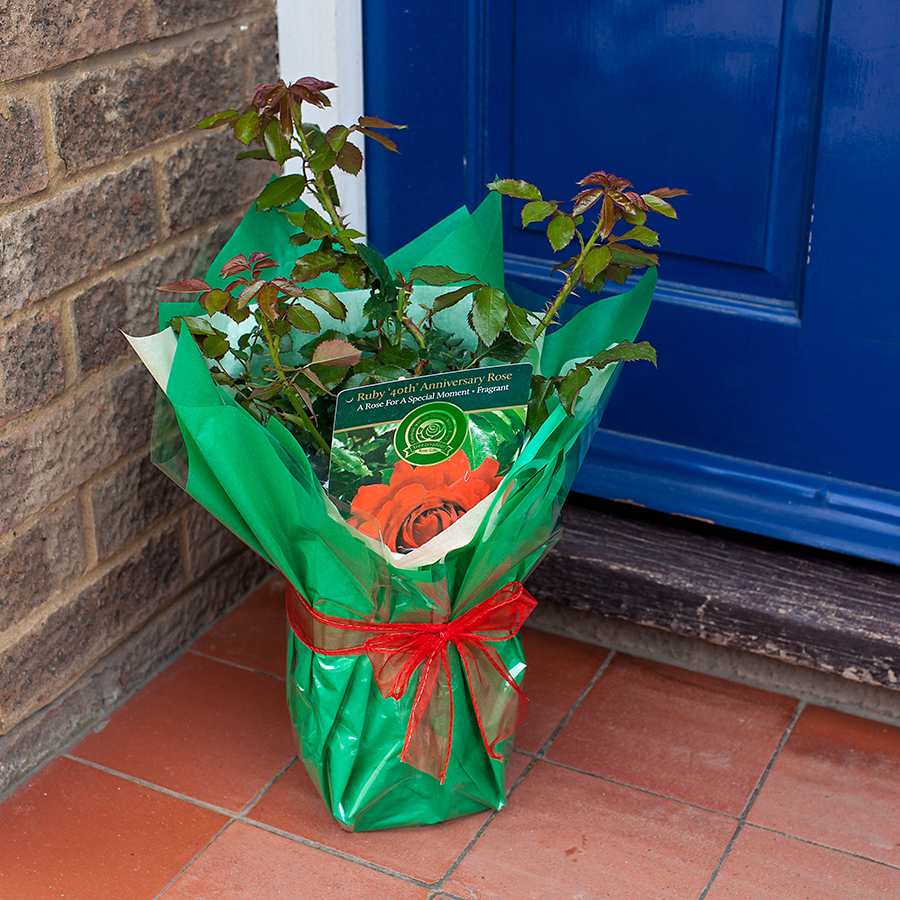 Ruby 40th Anniversary Rose Gift