Non-slip grippy red football socks are a game-changer for football players looking to improve their performance on the field. Designed to provide enhanced grip and control, these socks give you that extra edge to outperform your opponents.
The popularity of non-slip red football socks has soared in the past two seasons, and for good reason. They offer a range of benefits that are often underestimated when it comes to running performance. Whether you're a professional athlete or a casual player, these socks can make all the difference in your game.
Not only do grippy red football socks enhance your performance, but they also complement your red football kit perfectly. We also stock these socks in black and the always popular white, which can be paired with various kit colors. Stay tuned as we will be adding more colors to our collection soon.
And here's the best part – you can now get three pairs of our non-slip football grip socks for just £20! Simply add three pairs to your basket, and the discount will be automatically applied.
Benefits of Grippy Red Football Grip Socks:
Improved sprint speed: The non-slip feature of these socks allows you to push off the ground with more power and speed, helping you reach your top speed more quickly.
More efficient changes of direction: With better grip, you can change directions smoothly and swiftly, fooling your opponents and gaining a tactical advantage.
Better ball control and technique: The enhanced grip provided by these socks allows for better control of the ball, giving you the confidence to perform intricate footwork and execute precise passes.
Reduced risk of ankle, knee, and hip injuries: The added stability and support from these socks can help prevent common football injuries, such as sprains and twists, by minimizing unnecessary movement.
Protection from blisters and foot discomfort: The grippy texture of these socks helps to minimize friction between your feet and your boots, reducing the risk of blisters and discomfort during prolonged play.
Investing in grippy red football grip socks is a smart move for any football player looking to take their game to the next level. Don't miss out on this opportunity to improve your performance, enhance your style, and protect yourself from potential injuries. Get your three pairs today and experience the difference!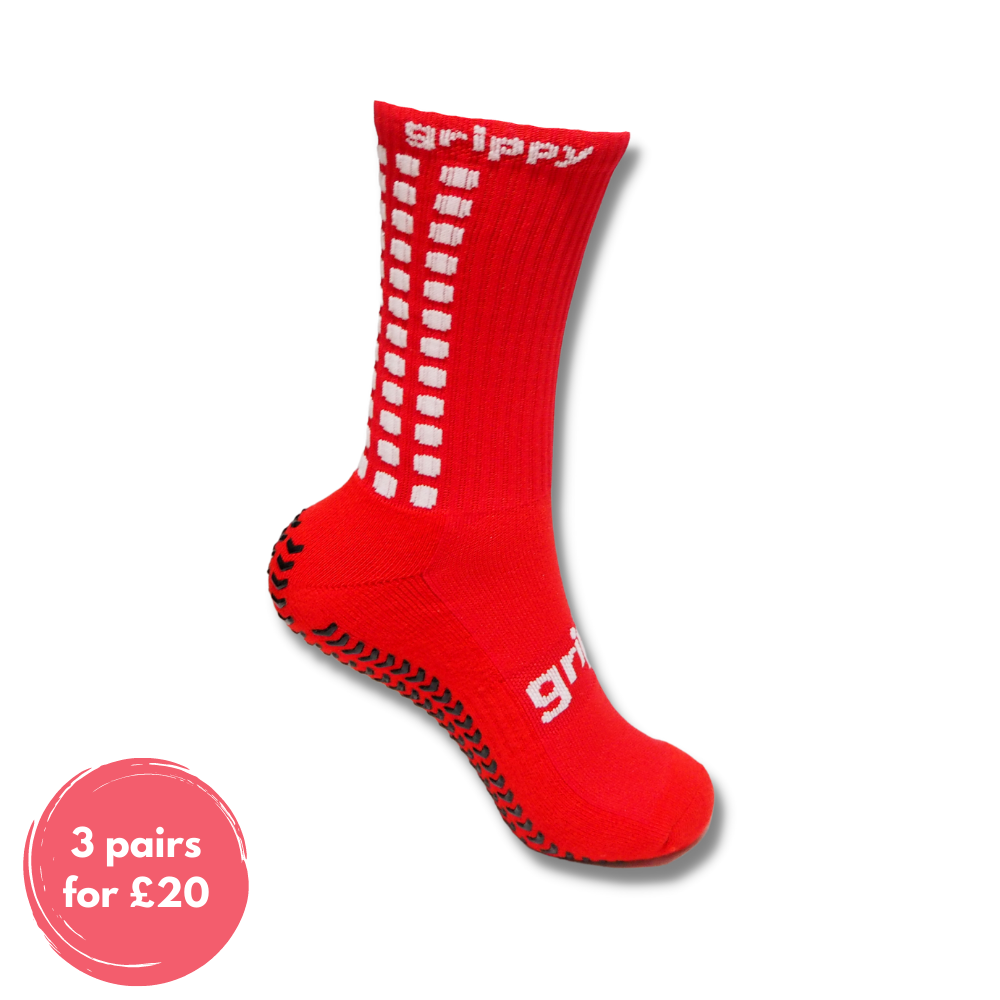 Grippy Red Football Grip Socks