Introducing the GRiPD V1 Performance Grip Socks in the trendy color Grey. These socks are the perfect blend of modern style, affordability, and functionality, making them a must-have addition to your collection.
Modern, stylish & affordable
With their clean cut design, these grip socks offer a classy look that pairs well with any workout attire. Whether you're hitting the gym, going for a run, or attending a yoga class, these socks will add a touch of style to your exercise routine. And the best part? They come at an affordable price, so you don't have to break the bank to look good.
Breathable & Elastic materials for quality and comfort
We understand that comfort is of utmost importance when it comes to workout gear. That's why these grip socks are made with breathable and elastic materials. The combination of cotton, spandex, polyester, and nylon ensures a perfect fit while allowing your feet to breathe. Say goodbye to sweaty and uncomfortable feet while enhancing your performance.
Arched Grip Technology for specific movement
These socks are not your average grip socks. They feature Arched Grip Technology on the heel, designed to provide you with specific movement and maximum grip during your workout. Whether you're lifting weights, performing yoga poses, or engaging in any activity that requires stability and balance, these socks will keep you grounded and confident.
Crew length
The GRiPD V1 Performance Grip Socks have a crew length, covering your ankles for added comfort and support. Say goodbye to blisters and discomfort that can result from your shoes rubbing against your skin. These socks will keep your feet protected, allowing you to focus on your workout without distractions.
Essential part of your equipment
These grip socks are not just another accessory; they are an essential part of your workout equipment. The rubber grips on the soles of these socks provide traction and stability, reducing the risk of slipping and improving your overall performance. Whether you're a professional athlete or a fitness enthusiast, these socks will give you the confidence to push your limits.
Delivery
The prices stated on the product pages include VAT and other price components. We offer UK Standard Delivery (3-5 Working Days) at £2.99. For international delivery, please contact us at info@gripd.co.uk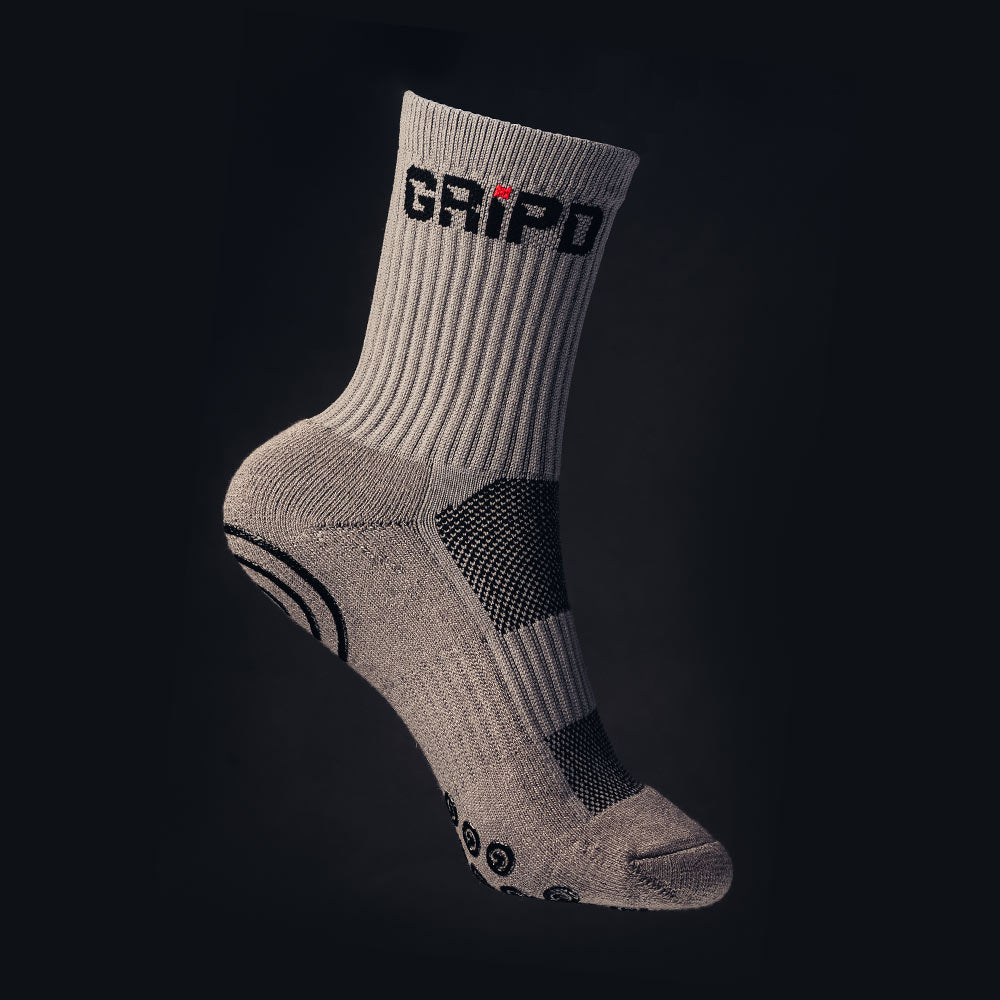 GRiPD V1 Performance Grip Socks – Grey