Introducing the Waterproofing Conditioning Cream from Crispi
Are you tired of getting your boots soaked in rainy weather? Want to protect your footwear from the elements? Look no further than the Crispi Waterproofing Conditioning Cream. This incredible product is specially formulated with waxes, oils, and fats to provide your shoes with the ultimate waterproofing power.
Never worry about wet feet again with the Crispi Waterproofing Conditioning Cream. Designed to help preserve the lifespan of your leather boots while maximizing their capabilities, this cream is a must-have for any shoe enthusiast. Simply apply it to a clean, dry surface using the included applicator pad after gently brushing off any dirt or debris. Suitable for use on nubuck, full-grain, and suede leather, this conditioning cream is versatile and effective.
Here are some key features of the Crispi Waterproofing Conditioning Cream:
Size: 3.4 ounces / 100 ml
Included applicator pad for easy application
Excellent waterproofing capabilities
Recommended for full-grain and nubuck leather
May darken leather upon application
Investing in the Crispi Waterproofing Conditioning Cream means investing in the longevity of your beloved footwear. Not only will it keep your boots protected from the elements, but it will also enhance their durability. Don't let rain or snow ruin your day – protect your investment with the reliable and effective Crispi Waterproofing Conditioning Cream.
Order yours today and experience the convenience and peace of mind that come with having waterproofed and conditioned boots. Stay dry, stay stylish!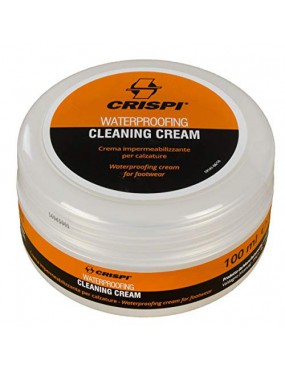 WATERPROOFING CONDITIONING CREAM