Crispi Waterproofing Cream – The Ultimate Protection
When it comes to keeping your gear and equipment in perfect condition, nothing beats Crispi Waterproofing Cream. Designed for the most demanding situations, this high-quality product is a game-changer for military, police, and security professionals.
Unparalleled Protection
Crispi Waterproofing Cream is specially formulated to provide unparalleled protection against water, moisture, and other outdoor elements. Whether you're trekking through wet terrain, enduring heavy rain, or exposed to extreme weather conditions, this cream will keep your gear dry and functional.
With its advanced formula, Crispi Waterproofing Cream creates a protective barrier that repels water, preventing it from seeping into your gear. No more worrying about your equipment getting wet and compromised during critical operations.
Enhanced Durability
In addition to its outstanding waterproof properties, Crispi Waterproofing Cream also enhances the durability of your gear. By deeply penetrating the material, this cream strengthens the fibers and prolongs the lifespan of your equipment.
With regular use, you can significantly increase the durability of your gear, making it more resistant to tears, abrasions, and other forms of damage. No matter how rough the terrain or intense the mission, Crispi Waterproofing Cream ensures that your gear stays in top-notch condition.
Easy to Use
Applying Crispi Waterproofing Cream is effortless. Simply clean your gear thoroughly and make sure it's dry before starting the application process. Take a small amount of cream and rub it onto the surface, ensuring complete coverage.
Allow the cream to dry naturally, and your gear will be ready for action. The cream does not leave any oily residue or discoloration, leaving your gear looking as good as new.
Trusted by Professionals
Crispi Waterproofing Cream is trusted by military, police, and security professionals worldwide. It has been rigorously tested in the toughest environments and has proven its effectiveness time and time again.
When you're out in the field, you need gear that you can rely on. With Crispi Waterproofing Cream, you can have peace of mind knowing that your equipment is protected and will perform optimally, no matter the circumstances.
Don't compromise the performance and lifespan of your gear. Invest in Crispi Waterproofing Cream, the ultimate protection for military, police, and security professionals.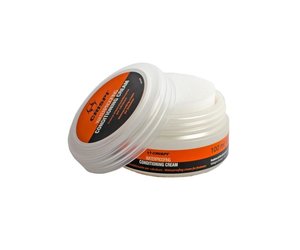 Crispi Waterproofing Cream