Protect your footwear with the Crispi Waterproofing Cream. Made with quality ingredients, this 3.4 oz/100 ml cream provides excellent waterproofing capability to keep your shoes and boots dry even in the harshest conditions. A handy applicator pad is included for easy and mess-free application.
This waterproofing cream is specifically recommended for use on full grain and nubuck leather. Whether you own a pair of Crispi Hunter, Guide, Nevada, Gran Paradiso, Wild Rock, Lapponia, Monaco, Briksdal, Dakota, or Oasi/Sniper leather portions, this cream is best suited for maintaining the integrity and longevity of your footwear.
Upon application, the Crispi Waterproofing Cream may cause the leather to darken. However, this is a normal reaction and does not affect the product's ability to protect your footwear from moisture. Rest assured that your shoes and boots will remain waterproof and perform at their best.
This waterproofing cream is a necessary addition to your shoe care routine, especially if you enjoy outdoor activities, hiking, or hunting. When facing wet and unpredictable weather, you can trust Crispi Waterproofing Cream to keep your feet dry and comfortable.
Invest in the Crispi Waterproofing Cream today and take the necessary steps to ensure the longevity and protection of your cherished footwear. Don't let water ruin your next adventure – be prepared with Crispi Waterproofing Cream!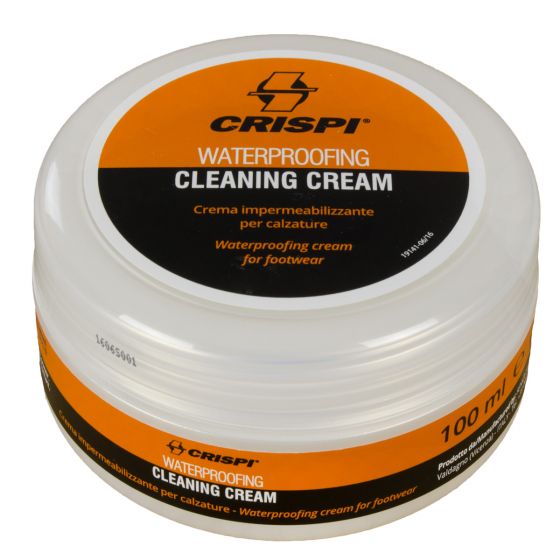 Crispi Waterproofing Cream