Crispi Waterproofing Cream – Maximize the Lifetime of your Boots
Product Details:
Product Name: Crispi Waterproofing Cream
Product SKU: 48900005703
Make sure your boots stay protected from the elements with the Crispi Waterproofing Cream that is built to help preserve the lifetime of the leather while maximizing its capabilities. This waterproofing cream is specially formulated to enhance the durability of leather boots and ensure they remain in top condition.
Usage Instructions:
The Crispi Waterproofing Cream is designed to be applied to dry leather after cleaning with water and a soft brush. The cream comes with an applicator pad, making it easy to apply. It is recommended for use on Nubuck, Full Grain, and Suede leather. Please note that the leather may darken upon application if the leather is dry.
Features:
Excellent waterproofing capability
Recommended for full-grain and nubuck leather
Will often cause the leather to darken upon application
Comes with an applicator pad
Contains 3.4 oz/100 ml of product
Best Suited for:
The Crispi Waterproofing Cream is best suited for the following Crispi boot models: Hunter, Guide, Nevada, Gran Paradiso, Wild Rock, Lapponia, Monaco, Briksdal, Dakota, and Oasi/Sniper leather portions. It is specifically formulated to enhance the performance and longevity of these models.
California Residents Warning:
California residents should be aware that this product may contain harmful chemicals that can cause cancer and reproductive harm. Please visit www.P65Warnings.ca.gov for more information.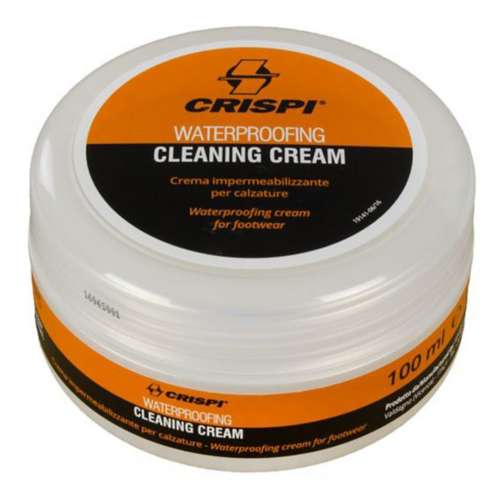 Crispi Waterproofing Cream