Crispi Waterproofing Cream
Keep Your Outdoor Boots Ready for Any Adventure
Introducing the Crispi Waterproofing Cream, the ultimate solution to protect your favorite outdoor boots from water damage. With its exceptional waterproofing capability and easy-to-use applicator pad, this cream is a must-have for outdoor enthusiasts.
Premium Quality Leather Protection
Designed specifically for full grain and nubuck leather, the Crispi Waterproofing Cream is recommended for a wide range of Crispi boot models. Whether you own a Hunter, Guide, Nevada, Gran Paradiso, Wild Rock, Lapponia, Monaco, Briksdal, Dakota, or Oasi/Sniper boot, this cream will help maintain the quality and appearance of your leather portions.
Effective Waterproofing
Don't let water ruin your outdoor adventures. The Crispi Waterproofing Cream creates a reliable barrier against moisture, preventing water from seeping in and keeping your feet dry in wet conditions. Whether you're hiking, hunting, or simply exploring nature, this cream ensures your boots stay dry and comfortable.
Convenient Application
Each Crispi Waterproofing Cream package includes a 3.4 oz/100 ml bottle of cream and an easy-to-use applicator pad. Simply apply the cream to your boots using the provided pad, ensuring complete coverage for optimal protection. The cream will often cause the leather to darken temporarily, but this darkening will fade over time, leaving your boots looking as good as new.
Preserve the Beauty of Your Boots
Investing in high-quality outdoor boots requires proper maintenance to ensure their longevity. The Crispi Waterproofing Cream not only protects your boots from water damage but also helps to maintain their original appearance. Keep your boots looking pristine and ready for any outdoor adventure with this reliable waterproofing solution.
Don't let water ruin your outdoor experiences. Get the Crispi Waterproofing Cream today and enjoy the peace of mind that comes with knowing your boots are well-protected against water damage. Order now and take the first step towards preserving the longevity and beauty of your favorite outdoor boots.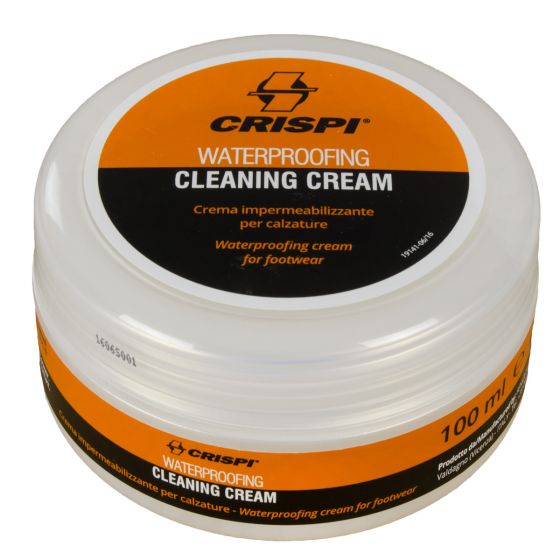 Crispi Waterproofing Cream