The JOOLA STANDARD 'TIME OUT' SCORING MACHINE is a must-have tool for every table tennis enthusiast. Designed with practicality in mind, this scoring machine is constructed from durable plastic materials that ensure its longevity and reliability. Whether you are a professional player or a casual player looking to enhance your skills, this scoring machine is an essential tool to keep track of your table tennis games.
The machine features a user-friendly design that allows for easy installation and use. With its simple and intuitive interface, you can effortlessly keep track of the score and time during your matches. The large, easy-to-read digital display ensures that you can quickly glance at the score without any distractions. The machine also includes dedicated buttons for setting timeouts, ensuring fair gameplay and providing an equal opportunity for both players.
Durability is a key feature of the JOOLA STANDARD 'TIME OUT' SCORING MACHINE. The plastic construction ensures that the machine can withstand intense table tennis matches without getting damaged. It is built to last, so you don't have to worry about it breaking or malfunctioning during important games. Its compact size allows for easy storage and transportation, making it ideal for both home use and professional tournaments.
With the JOOLA STANDARD 'TIME OUT' SCORING MACHINE, you can focus on honing your table tennis skills without worrying about keeping score accurately. Its practical plastic construction, user-friendly design, and durability make it an essential product for all table tennis enthusiasts. Invest in this scoring machine and elevate your table tennis game to the next level.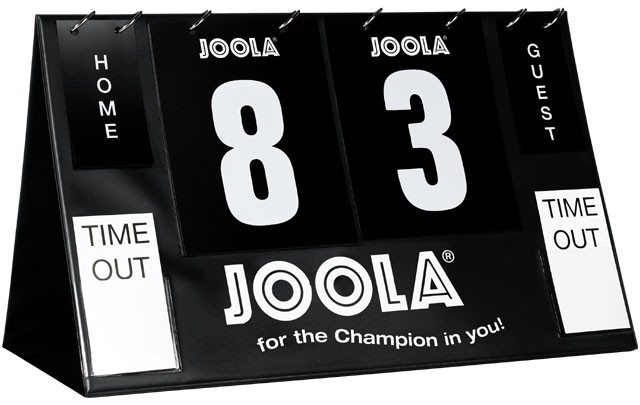 JOOLA STANDARD 'TIME OUT' SCORING MACHINE