Halloween is a time for spooky fun and these adorable rubber ducks are the perfect addition to any Halloween celebration. This 6 pack of Halloween Rubber Ducks is sure to bring a smile to everyone's face.
This pack includes six different rubber ducks, each with its own Halloween-themed design. There is a Mummy Duck, Frankenstein Duck, Dracula Duck, Witch Duck, Pumpkin Duck, and Ghost Duck. Each duck measures 2" high and 2" wide, making them the perfect size for little hands to squeeze and play with.
These rubber ducks are not only cute but also functional. Each duck has a hole in the bottom, which allows them to float in water. This makes them perfect for bath time fun or for playing in a pool or a pond.
These Halloween Rubber Ducks are made of high-quality rubber, ensuring that they are durable and long-lasting. They are also non-toxic, making them safe for children of all ages. Whether you use them as decorations for a Halloween party or as toys for your little ones, these rubber ducks are sure to be a hit.
So, why wait? Get your 6 Pack of Halloween Rubber Ducks today and add some spooky fun to your Halloween celebrations!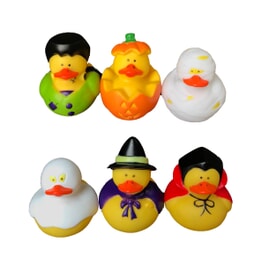 6 Pack of Halloween Rubber Ducks