Introducing the 5cm Needled Felt One Eyed Monster
Looking to add some adorably spooky charm to your Halloween crafts? Look no further than our 5cm Needled Felt One Eyed Monster! This cute and quirky monster will make the perfect addition to your Halloween decorations, whether you want to showcase it on your table or carry it around as a keychain.
Designed with attention to detail, our One Eyed Monster features a single big and googly eye that brings a playful and mischievous touch to any setting. Its vibrant and eye-catching colors make it an instant favorite for kids and adults alike.
One of the great things about this felt monster is its versatility. Attach it to your keys for an instant Halloween-themed keychain that will make you stand out from the crowd. Add it to your bags or backpacks as a fashionable accessory. Hang it on your office cubicle or locker for a touch of fun. The possibilities are endless!
Made from high-quality needled felt, our One Eyed Monster is not only cute but also durable. It will withstand the test of time and maintain its attractive appearance year after year, becoming a staple in your Halloween decorations for many spooky seasons to come.
Don't miss out on bringing home this delightful monster to add some personality to your Halloween decor. Shop now and create a whimsical and enchanting atmosphere that will surely impress your guests and spark joy in your heart!
Add some spooky-cute charm to your Halloween crafts with the 5cm Needled Felt One Eyed Monster. Get yours today and shop now!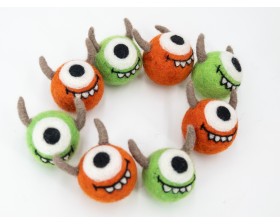 5cm Needled Felt One Eyed Monster