Multifunctional pot with a basket and a pressure ham
cooker – 313515
The ham cooker is designed for making delicious home-cooked steamed cured meats. It allows you to prepare 1.5 kg of meat product at a time. 
In the center of the lid there is a socket with an opening enabling direct measurement of the temperature of the meat insert. A thermometer with a probe is used for this, which is not included in the set. 
One of the dedicated thermometers can be fitted to the ham cooker.
Stainless steel pot with glass lid.
Suitable for use on any type of cooker:
electric hob – Yes
induction hob – Yes
gas stove – Yes
Dimensions: 17.5 x 23.5 x 27cm
Capacity: 4 L.
The pot is a great complement to a ham cooker with a capacity of 0.8 kg or 1.5 kg. Due to its height, the pot is perfect for cooking asparagus vertically without tying it up. 
The included basket makes it easy to cook and drain vegetables, as well as prepare fries.
Set contains:
• ham cooker (for 1.5 kg);
• stainless steel pot (4 L);
• a tempered glass cover with a steam vent;
• basket with stainless steel handles.
Before the first use, all components of the set should be thoroughly washed in warm water or a dishwasher, and then thoroughly dried. 
When using the ham cooker, do not cover it with the glass lid.
P&P UK
Specification:
NEW! Multifunctional Pot with Basket & Ham Maker Stainless Steel 313515 P&P UK
| | |
| --- | --- |
| Features | Pot 4 L, Recipes |
| Item Height | 26.5 cm |
| Material | Stainless Steel |
| Colour | Silver |
| Model | other |
| Components Included | Pressure Cooker, Basket, Pot |
| Brand | Browin |
| Room | Kitchen |
| Type | Pressure Cooker |
| EAN | 5908277714451 |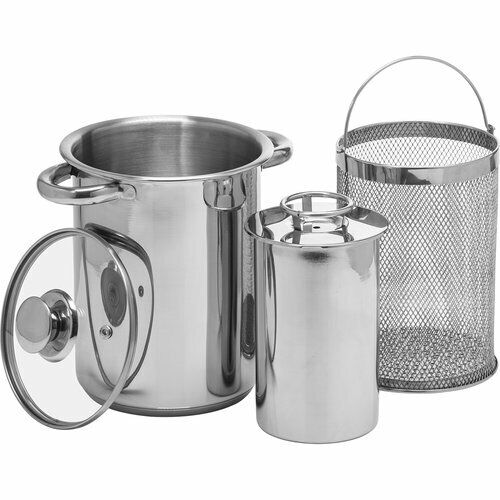 NEW! Multifunctional Pot with Basket & Ham Maker Stainless Steel 313515 P&P UK