Key Features:
LOW MOISTURE & QUICK HEAT: With a guaranteed moisture content of 0-5%, these briquettes fuel logs light quicker and burn more effectively, meaning you make fewer trips to top up the stove, saving money and effort.
HIGH HEAT & LOW EMISSIONS: High quality briquettes such as these are roughly the energy equivalent of 3 – 4 traditional logs. They have a notably high heat output and burn for a long time with low ash levels and emissions.
GREENER WAY TO HEAT YOUR HOME: No artificial additives just natural wood product make these briquettes a cleaner and greener way to heat your home. With an efficient burn that produces very and lower residues, this means cleaner chimneys and flues.
PERFECT TO BE USED FOR: These heat logs can be used in indoor and outdoor fires such as wood burners, open fires, wood-fired pizza ovens, fire pits and multi-fuel stoves.
EASY TO STORE: Their compact shape and size allow you to use and store them easily.
Description:
Our RUF Briquettes ensure low emissions and trouble-free heating with a high energy and heat value and are practically smokeless.
Our RUF Briquettes enable users to have full confidence in the quality and availability of their fuel.
Perfect for burning on your fire pit, wood burner, open fireplace, pizza oven and chiminea.
Specification:
Glow Wood 30 Logs 28KG RUF Winter Fuel Log Birch Briquettes for Open Fires
| | |
| --- | --- |
| CountryRegion of Manufacture | Lithuania |
| Material | Birch |
| Type | Heat Logs, Briquettes |
| Features | Quick to Light |
| Number in Pack | 30 |
| Item Weight | 28kg |
| Brand | Glow Wood |
| EAN | 5060802590319 |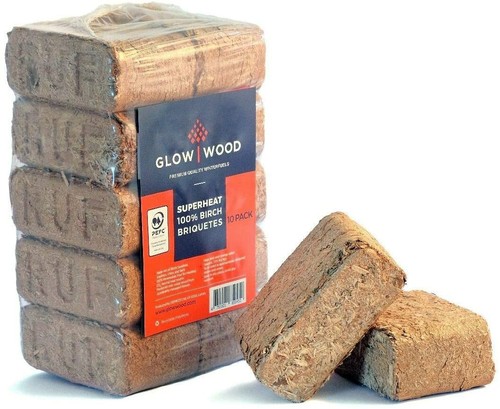 Glow Wood 30 Logs 28KG RUF Winter Fuel Log Birch Briquettes for Open Fires