Are you looking for the perfect shelter for your furry friend? Look no further – the Shire Timber Apex Dog Kennel & Sheltered Run is the ideal solution for providing comfort and protection to your beloved dog.
This spacious dog kennel and run combo is honey brown in color, adding a touch of elegance to your outdoor space. With dimensions of 7 x 13 ft, it offers plenty of room for your pet to move around, play, and relax.
The apex roof design not only enhances the overall look of the kennel but also provides excellent water runoff during rainy days, keeping your dog dry and comfortable. The sturdy timber construction ensures durability and longevity, making it a worthwhile investment.
One of the key features of this dog kennel is the separate doors for the kennel and run. This allows you to conveniently access each area individually, making feeding, cleaning, and maintenance hassle-free.
Whether your dog prefers to stay inside the cozy kennel or enjoy the fresh air in the run, this product offers the perfect balance of comfort and freedom. The sheltered run ensures that your pet is protected from the elements while still being able to enjoy the outdoors.
As a responsible pet owner, you understand the importance of providing a safe and secure space for your dog. The Shire Timber Apex Dog Kennel & Sheltered Run Honey Brown is designed with your pet's well-being in mind. It offers a cozy shelter and a spacious run for your dog to exercise, socialize, and relax.
Don't wait any longer – give your furry friend the shelter and comfort they deserve. Order the Shire Timber Apex Dog Kennel & Sheltered Run Honey Brown – 7 x 13 ft today and provide them with a home away from home.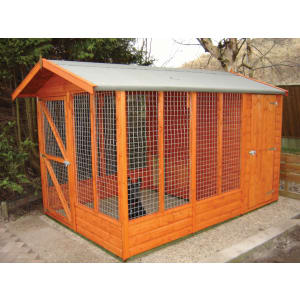 Shire Timber Apex Dog Kennel & Sheltered Run Honey Brown – 7 x 13 ft