Introducing the Camel-Toned Woven Strap for Apple Watch by BOSS
Are you tired of your ordinary Apple Watch strap? Upgrade your wrist game with the stylish and versatile Camel-Toned Woven Strap for Apple Watch by BOSS. Crafted with precision and attention to detail, this strap effortlessly combines fashion and functionality, making it a must-have accessory for any Apple Watch owner.
Superior Quality
When it comes to quality, BOSS never disappoints. The Camel-Toned Woven Strap is made from premium materials to ensure durability and long-lasting wear. The woven texture adds a touch of sophistication, making it suitable for both casual and formal occasions. Whether you're heading to the office or going for a night out, this strap will complement your outfit effortlessly.
Eye-Catching Design
The camel tone of this strap adds a timeless appeal to your Apple Watch. It exudes elegance and versatility, making it suitable for any occasion and outfit. The contrasting logo patch subtly adds a touch of branding without overpowering the overall design. With this strap, you can showcase your unique sense of style while still maintaining the essence of your Apple Watch.
Perfect Fit
The Camel-Toned Woven Strap by BOSS is compatible with the 42 and 44mm Apple Watch, ensuring a perfect fit for your wrist. The riptape closure allows for easy adjustment and secure fastening, so you can wear your Apple Watch with confidence. Say goodbye to uncomfortable straps that never seem to fit just right – this strap offers both comfort and style.
Elevate Your Apple Watch Experience
If you're looking to elevate your Apple Watch experience, the Camel-Toned Woven Strap by BOSS is the perfect addition to your collection. With its superior quality, eye-catching design, and perfect fit, this strap is guaranteed to enhance your overall look and make a statement.
Don't settle for ordinary – choose the Camel-Toned Woven Strap by BOSS and redefine how you wear your Apple Watch.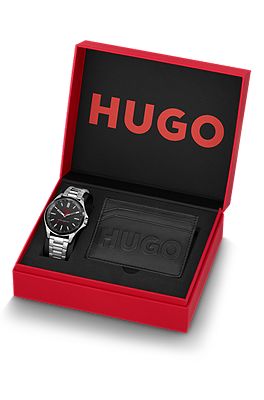 Camel-toned woven strap for Apple Watch with contrast logo