Product Spotlight: Personalised End Grain Butchers Block
If you're looking for a versatile and durable cutting board that exudes elegance, our personalised end grain butchers block is the perfect choice. Made from locally sourced kiln dried oak, this stunning piece is not only a practical kitchen tool but also a beautiful addition to any home.
Unparalleled Versatility
Designed to meet all your culinary needs, our end grain butchers block serves a variety of purposes. Use it as a sturdy chopping board for all your meal preparations, or impress your guests by transforming it into a stylish serving platter or charcuterie board. Feeling like pizza? This block can even double as a convenient pizza slice board. Its versatility extends to cheese boards, noodle boards, and even outdoor oven serving platters. With its exceptional craftsmanship and functionality, it's the ultimate tool for any cook or food enthusiast.
Exceptional Craftsmanship
We take pride in creating each end grain butchers block with meticulous care. Unlike other cutting boards, our blocks are made using the end grain of the wood. This not only enhances their durability but also makes them more forgiving on your knives. Scratches are virtually invisible on these boards, ensuring a elegant appearance that lasts. It's important to note that the production process for these boards takes several days, making them more valuable than simple cutting boards. From flattening the wood to slicing across the grain and rejoining the pieces with high-quality wood glue, every step is carefully executed to ensure a superior end product.
Personalised and Unique
When you choose our end grain butchers block, you have the option to personalise it to meet your exact requirements. Whether you want a specific size, engraving, or special features, we can bring your vision to life. Our commitment to customer satisfaction means that you'll receive a truly unique and bespoke product that enhances your culinary experience.
The Perfect Gift
Searching for the ideal gift for a passionate chef or a dedicated foodie? Look no further. Our end grain butchers block is not just a kitchen tool; it's a statement of style and craftsmanship. Give them a gift that elevates their cooking and presents food beautifully. The combination of functionality, durability, and beauty makes it the ultimate present for anyone who appreciates the art of cooking.
Invest in a personalised end grain butchers block today and experience the unparalleled quality and versatility it offers. Whether it's for your own kitchen or a special gift, this beautifully crafted piece will exceed your expectations.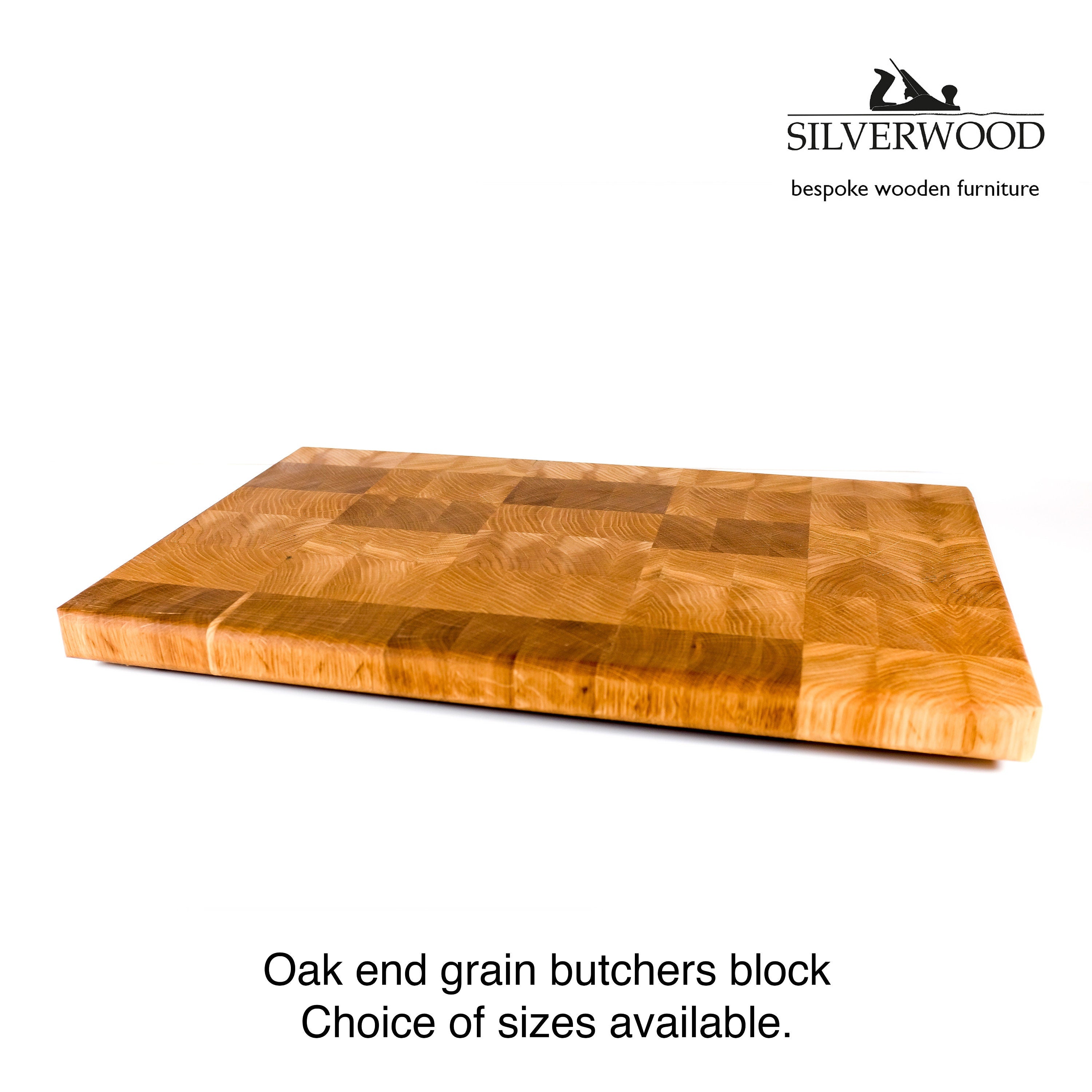 Personalised end grain butchers block, oak. Cutting board, charcuterie board, chopping board, serving platter