Smart Garden Regent's Roses – Ruby Red 80cm
The Smart Garden Regent's Roses in Ruby Red is a truly breathtaking product that will transform any space into a visual paradise. This low maintenance potted tree is perfect for those who want to add a touch of elegance and beauty to their homes, patios, balconies, or gardens.
With its vibrant ruby red flowers, this tree is guaranteed to make a statement and become the focal point of any area. The rich color and lifelike appearance of the roses will instantly brighten up your surroundings and create a warm and inviting atmosphere.
One of the most remarkable features of the Smart Garden Regent's Roses is its ability to stay fresh year after year. Unlike real flowers that wilt and fade, these artificial roses will maintain their stunning appearance indefinitely. This means you can enjoy the vibrant beauty of these roses without the need for constant care or worrying about them losing their charm.
In addition to its aesthetic appeal, this potted tree also offers the convenience of easy maintenance. You won't have to worry about watering, pruning, or providing special care. Simply place the Regent's Roses in your desired location and let its beauty shine.
Overall, the Smart Garden Regent's Roses in Ruby Red is the perfect choice for anyone seeking a low maintenance, yet high impact addition to their living space. With its stunning color, lifelike appearance, and long-lasting beauty, this potted tree will bring joy and aesthetic pleasure for years to come.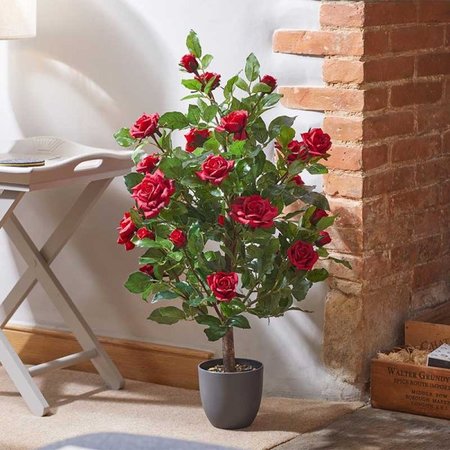 Smart Garden Regent's Roses – Ruby Red 80cm