Introducing our stunning Heavy Embroidery Design Needled Felt Flower Coin Purse! This exquisite accessory is perfect for those who appreciate artisan craftsmanship and want to add a touch of elegance to their daily lives.
Made with love and care, this coin purse is handcrafted using premium quality woolen felt. The felt material not only adds a soft and luxurious feel to the purse but also ensures its durability and longevity. The needle felting technique used in its production creates a dense and sturdy fabric that will protect your coins from any damage.
What truly sets this coin purse apart is its captivating heavy embroidery design. Each purse is meticulously adorned with beautiful felt flowers that are delicately stitched onto the surface. The intricate detailing and intricate patterns of the flowers make the coin purse an absolute visual delight.
Measuring [INSERT DIMENSIONS], this coin purse is spacious enough to accommodate your loose change, credit cards, and other small essentials. The secure zipper closure ensures that your belongings remain safe and secure, while the compact size makes it convenient to carry in your handbag or pocket.
Additionally, the heavy embroidery design adds a touch of sophistication and uniqueness, making this coin purse an ideal gift for someone special. Whether it's a birthday, anniversary, or any other occasion, this coin purse will surely impress and be cherished.
Designed with both style and functionality in mind, this coin purse is not only a fashion accessory but also a practical everyday item. The soft woolen felt provides a pleasant tactile experience, while the embroidered flowers add a pop of color to brighten up your day.
Don't settle for ordinary when you can have extraordinary. Upgrade your coin purse game with our Heavy Embroidery Design Needled Felt Flower Coin Purse. Order now and experience the beauty and elegance that this exquisite accessory brings to your life!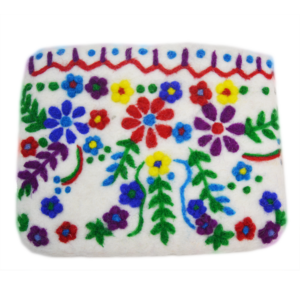 Heavy embroidery design needled felt flower coin purse