Ecofire Boxed Oak Kindling Sticks are a high-quality and sustainable option for starting fires. Produced by UK Timber, a trusted supplier in the industry, these kindling sticks are carefully sourced from oak timber. The product is designed to help both trade professionals and the general public easily ignite fires, whether it be in a fireplace, wood-burning stove, or outdoor fire pit.
What sets Ecofire Boxed Oak Kindling Sticks apart is their commitment to environmental responsibility. These kindling sticks are made from sustainably sourced oak timber, ensuring that no trees are over-harvested. By choosing this product, customers can feel confident that they are supporting a more eco-friendly option compared to traditional kindling options.
The boxed packaging adds convenience, making it easy to store and transport these kindling sticks. Each box is packed with precision-cut oak sticks, ensuring consistent quality and optimal fire-starting performance. Whether you're a professional looking for reliable kindling to provide to clients or a homeowner wanting to enjoy a cozy fire, Ecofire Boxed Oak Kindling Sticks are an excellent choice. With nationwide delivery available, anyone in the UK can enjoy the convenience and sustainability of this product.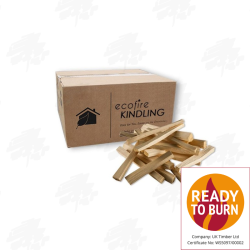 Ecofire Boxed Oak Kindling Sticks