Product Description
Crispi Waterproofing Cleaning Cream is a leather boot specific waterproofing cream designed for the care of high-quality footwear. Made with a combination of waxes, oils, and greases, this cream helps preserve the lifetime of leather while providing excellent waterproofing capabilities.
The 3.4 oz/100 ml pack comes with an applicator pad, making it convenient to apply the cream. It is recommended for use on Nubuck, Full Grain, or Suede leather and is specially formulated to work seamlessly with the leather used in Crispi boots.
Before applying the waterproofing cream, make sure the leather is dry and clean. Use a soft brush to remove any grit and dirt from the pores and seams of the leather. The cream, when applied with the included applicator pad, will help draw out additional dirt from the leather.
It's important to note that the leather may darken upon application due to the use of the cream. However, this is a normal occurrence and does not affect the performance of the waterproofing cream. Simply wipe away any excess cream and your leather boots will be ready to withstand any outdoor condition while keeping your feet dry.
CRISPI Waterproofing Cream is an essential product for anyone looking to maintain the quality and performance of their leather boots. With its excellent waterproofing capability, your feet can remain dry even during wet and muddy adventures.
Product Features
3.4 oz/100 ml pack
Applicator pad included
Recommended for Nubuck, Full Grain, or Suede leather
May cause leather to darken upon application
Excellent waterproofing capability
Invest in CRISPI Waterproofing Cream and provide your leather boots with the care they deserve.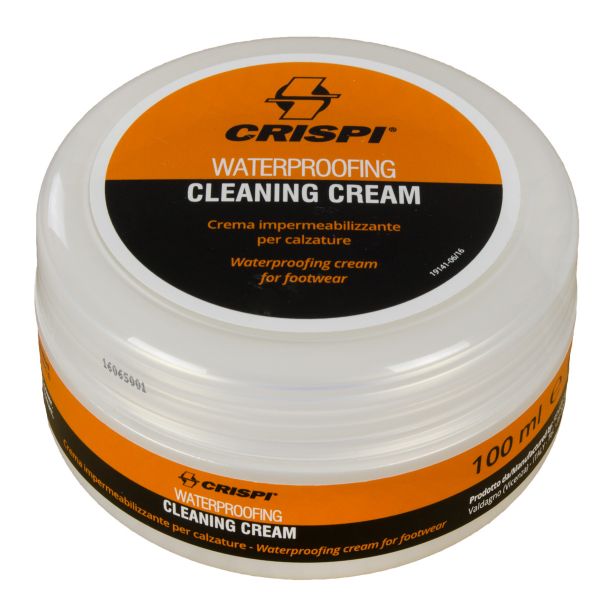 CRISPI – Waterproofing Cream